Rooms
Room ready from: 14:00
Check-out until: 10:00
Rooms are equipped with TV, radiator, bedside tables, lockers, refrigerator and private bathroom. Rooms and corridors are functional fire detectors according to European Union standards and a map of escape routes.
Wifi connection is available throughout the hotel, extra beds for children are on request.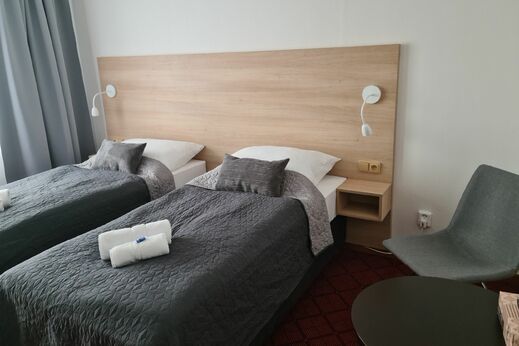 Single room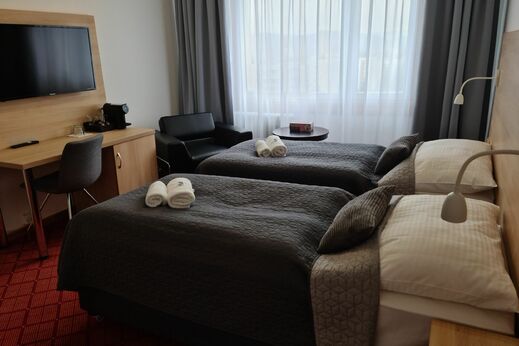 Single room DELUXE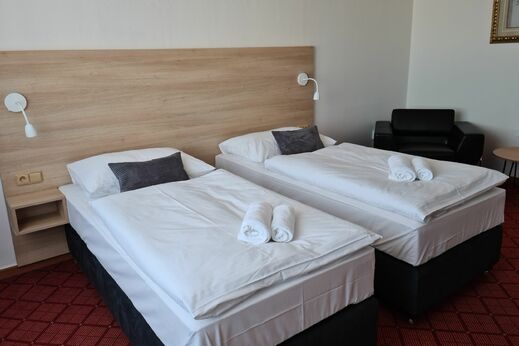 Double room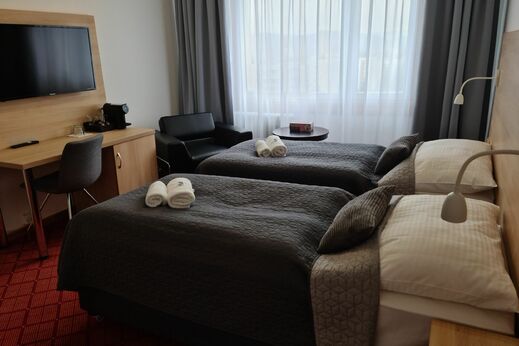 Double room DELUXE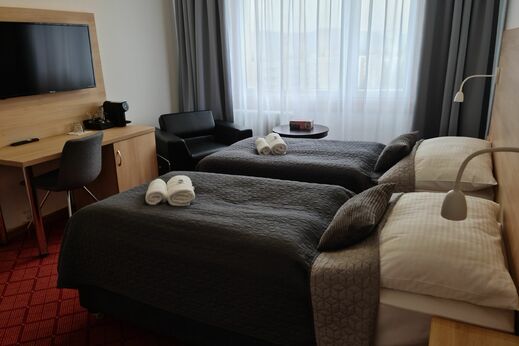 Three-beded room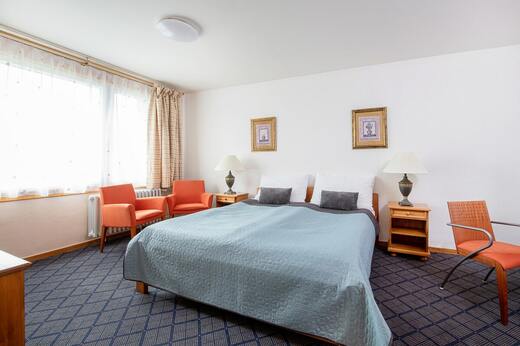 Apartment ***
Composition of rooms
1x single room

66x double room

2x triple room

9x deluxe room

4x family room
You can find the current price in the online booking form.
Don't like forms? You can call or write to us - we will calculate the price of your room for you without obligation.
You can find the current price in the online booking form.
Don't like forms? You can call or write to us - we will calculate the price of your room for you without obligation.
Infrared sauna: 80 CZK/hour
Bicycle rental shop: 60 CZK/hour or 260 CZK/day
Multi-purpose sports court: tennis, volleyball, netball, handball, basketball, ...: 200/hour or 350/2 hours
HOTEL***PATRIA offers ideal facilities for corporate events. Several training rooms and other facilities are used by companies from the Czech Republic and abroad for training and other activities.

We will provide for you:
accommodation in our hotel in comfortably furnished rooms
meals throughout the stay - breakfast, half board, full board, coffee breaks, banquets and others
conference facilities - for 20 to 130 people (large and small restaurant, meeting room, conference hall)
wellness program - in the hotel and surroundings (infra sauna, fitness center, massages, etc.)
technical security - projection, screen, TV, DVD player, flip chart, sound system and others
team bulding program - sports activities, tournaments, skill and knowledge competitions, golf, trips with a program, non-traditional activities, bowling, extreme sports, etc. (according to the agreement and the client's wishes)
organizational services of a hotel professional - coordination of activities, accompaniment during activities, etc.
other accompanying program - live music, disco, karaoke, bartending show, appearance by a well-known personality, etc.
everything depends on your requirements and financial budget
When certain conditions are met - the possibility of renting training rooms for FREE
Conditions: stay longer than 3 nights, number of participants min. 50 (all according to individual arrangements)
If you intend to use only our conference premises without other services, see the rental offer in the CONFERENCE SERVICES section.
Ideal conditions and facilities for sports stays - training sessions, camps, tournaments, etc.
In the hotel, athletes can use:
FITNESS CENTER and MULTI-PURPOSE COURT, TABLE TENNIS, STREET BALL COURT
for relaxation: infrared sauna, 2 massage rooms
City sports fields are located in the immediate vicinity of the hotel:
indoor pool (300 m)
summer swimming pool with beach volleyball court (100 m)
athletics stadium (100 m)
football stadium (150 m)
winter stadium (250 m)
tennis courts (100 m)
cycle and inline trail (0 m)
Near the hotel you can also find:
gym (1 km) - basketball, indoor activities, aerobics, zumba, fitbox, etc.
sports center Olymp - large gym, squash, indoor football, badminton, ricochet (1,5 km)
winter sports centers (6 km)
hiking and cross-country skiing trails (1 km)

Accommodation for athletes
Standard rooms with standard equipment - bathroom, TV/SAT, telephone
suitable for: adult athletes, foreign national teams, etc.
Prices depend on the number of guests, use of other services and length of stay. Contact us and we will try to accommodate.
We are already accepting reservations for SUMMER - the hotel's capacity is quite busy during the summer, so book early.
Accommodation price - advantageous conditions, information upon contact
Board
you can choose from the following options:
accommodation with breakfast (buffet breakfast included in the accommodation price)
half board (buffet breakfast and served dinner)
half board incl. drinking regime (buffet breakfast, served dinner)
full board (buffet breakfast, served lunch and dinner)
full board incl. drinking regime (buffet breakfast, served lunch and dinner)
full board incl. drinking regime, snacks during the day, late dinner
we also offer: packages for trips, extensions with salads and other courses
we will be happy to put together a menu for you according to the recommendations of a sports coach, a balanced diet, the possibility of diet programs, etc.
Comment:
served lunch: soup + main course, salad or dessert for an extra charge
served dinner: main course + salad or dessert (for an additional fee, soup or other appetizer)
When accommodating larger groups, we offer favorable accommodation and catering conditions. We will be happy to send you an individual offer upon request.
Send us an email with the following information:
number of persons
number of nights
date
type of stay (e.g. overnight stay when passing through Trutnov, vacation, training, concentration, etc.)
age and composition of participants
what are your requirements
what are your financial possibilities
Group discounts are especially worthwhile for stays longer than 2 nights.
Travel agencies can then take advantage of special prices based on long-term cooperation (information upon contact).
We believe that we will be able to mutually negotiate terms that will suit both parties.
Favorable price conditions for coach tours.
FREE coach parking (large capacity).
We offer special group prices for permanent partners - information upon contact.
We offer additional services:
Party with live music
Guide services
Excursion train rides around the area
A tour of Trutnov with an excursion to the UFFO social center
Other accompanying program (competitions, trips, excursions, ...)
Massage, fitness, relaxation